You can watch thuy nga paris by night online here
Or download dvd here
A Reflection of
PARIS BY NIGHT 91
HUE – SAIGON – HA NOI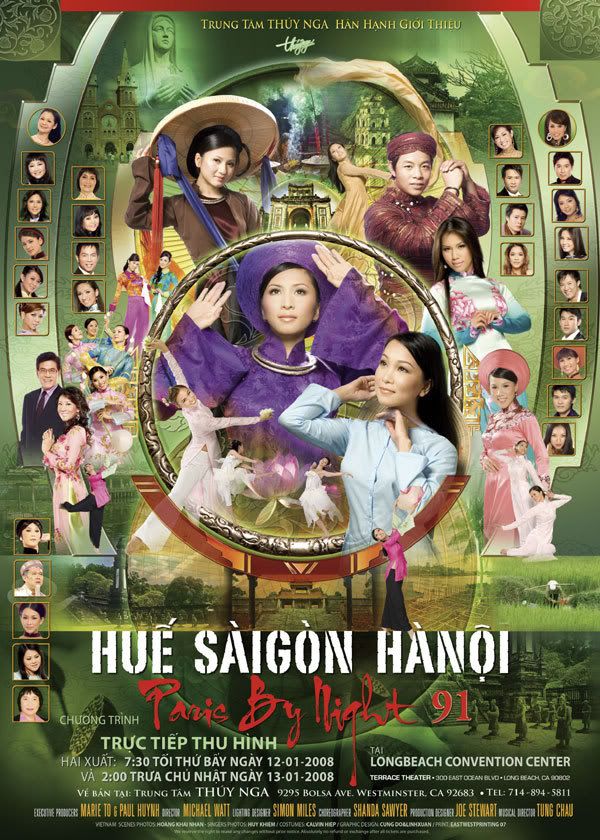 What a truly wonderfully meaningful and memorable program. As someone who was born here in the States, I found this program to be so enriching, as if I was actually traveling on this journey. And I learned so much along the way. Programs such as like really give us insight into our history and make us understand our culture so much more. The staging, song selection, singers, dancers, lighting, all in collaboration have made Paris By Night 91 a spectacular show.
Paris by Night 91 will lead you on an amazing theatrical journey from North to South Vietnam. The framework of the program will revolve around Pham Duy's masterpiece "Truong Ca Con Duong Cai Quan." The book Music and Technoculture by Rene T. A. Lysloff and Leslie C. Gay argues that it may possibly be Pham Duy's most famous composition. The book recounts that "Truong Ca Con Duong Cai Quan" (The National Road or Voyage Through the Motherland) "was composed between 1954 (the year the Geneva Accord divided Vietnam into two countries) and 1960 and has since come to symbolize a united Vietnam, especially for the Vietnamese now abroad. The work features three large sections ('North,' 'Central,' and 'South') for the regions of Vietnam) and a total of nineteen songs; the piece depicts a traveler journeying from north to south Vietnam along the Mandarin Road, a highway that runs the entire length of the country. Tonight's program does not use all 19 songs, but does utilize the ones representative of the three regions. In fact, "Nuoc Non Ngan Dam Ra Di" performed by Quang Le and Mai Thien Van in PBN 90 is one of the 19 songs of "Con Duong Cai Quan." Each movement draws on regional folk melodies, giving the work tremendously strong affective power for Vietnamese Americans, who thus hear it as a nostalgic affirmation of a single Vietnam and, simultaneously, as a strong statement against Communism….The work is deeply symbolic, but it arose from Pham Duy's personal experiences."
» Read the rest of the entry..