You can watch thuy nga paris by night online here
Or download dvd here
A Reflection of
PARIS BY NIGHT 91
HUE – SAIGON – HA NOI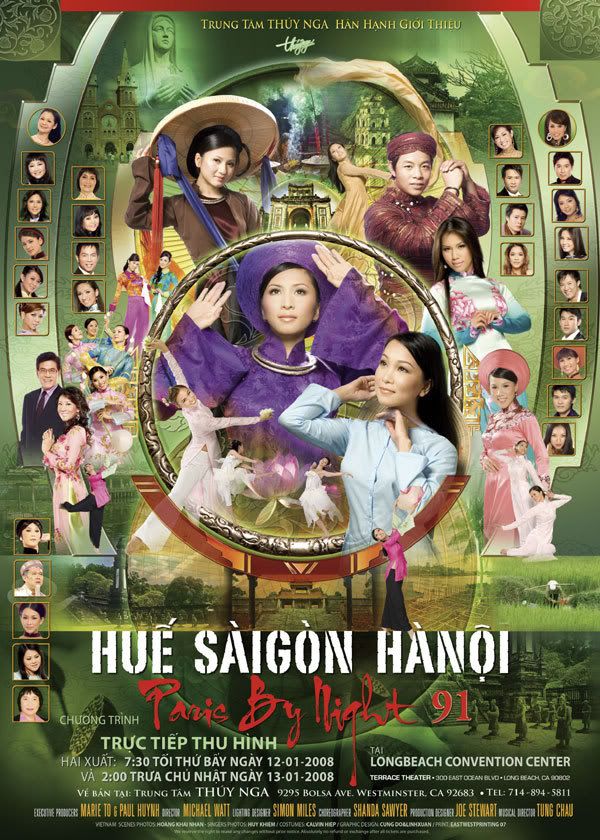 What a truly wonderfully meaningful and memorable program. As someone who was born here in the States, I found this program to be so enriching, as if I was actually traveling on this journey. And I learned so much along the way. Programs such as like really give us insight into our history and make us understand our culture so much more. The staging, song selection, singers, dancers, lighting, all in collaboration have made Paris By Night 91 a spectacular show.
Paris by Night 91 will lead you on an amazing theatrical journey from North to South Vietnam. The framework of the program will revolve around Pham Duy's masterpiece "Truong Ca Con Duong Cai Quan." The book Music and Technoculture by Rene T. A. Lysloff and Leslie C. Gay argues that it may possibly be Pham Duy's most famous composition. The book recounts that "Truong Ca Con Duong Cai Quan" (The National Road or Voyage Through the Motherland) "was composed between 1954 (the year the Geneva Accord divided Vietnam into two countries) and 1960 and has since come to symbolize a united Vietnam, especially for the Vietnamese now abroad. The work features three large sections ('North,' 'Central,' and 'South') for the regions of Vietnam) and a total of nineteen songs; the piece depicts a traveler journeying from north to south Vietnam along the Mandarin Road, a highway that runs the entire length of the country. Tonight's program does not use all 19 songs, but does utilize the ones representative of the three regions. In fact, "Nuoc Non Ngan Dam Ra Di" performed by Quang Le and Mai Thien Van in PBN 90 is one of the 19 songs of "Con Duong Cai Quan." Each movement draws on regional folk melodies, giving the work tremendously strong affective power for Vietnamese Americans, who thus hear it as a nostalgic affirmation of a single Vietnam and, simultaneously, as a strong statement against Communism….The work is deeply symbolic, but it arose from Pham Duy's personal experiences."
Now let's come along and together let's travel down "the National road" with Paris By Night 91, as we journey southward and stop by the three distinctive cities of Ha Noi, Hue, and Saigon, the 3 cities symbolic of the three regions of our beloved Vietnam.
** Opening Clip **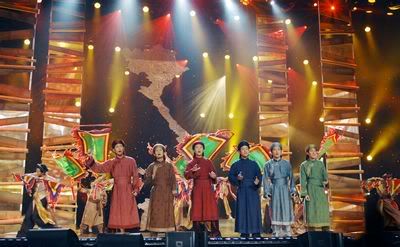 1. Con Đường Cái Quan – Từ Miền Bắc (Thế Sơn, Quang Lê, Trần Thái Hòa, Dương Triệu Vũ, Bằng Kiều, Trịnh Lam, Quỳnh Vi)


The program begins with a short video clip about tonight's very special theme. The video ends and we see a huge map of Vietnam as the backdrop on stage, along with bamboo screens. At the bottom of the map, a short ramp, to represent the "road" can be seen. And the stage comes alive with the music and the lights of the stage. The many dancers create an uncanny and very exciting atmosphere with the flags, swords, and spears and the sound of the distinct beating drums. Then from the back, we see 6 men all dressed in ao dai khan dong emerge on the road. As they step to the front of the stage, applause rings out. The colorful stage is alive and you can definitely feel the excitement echo throughout the auditorium. Only certain songs of "Con Duong Cai Quan" were used in tonight's program. In this first Northern section, the movements utilized were "Toi Di Tu Ai Nam Quan, Dong Dang Co Pho Ky Lua, and Toi Di Tu Luc Trang To." Throughout the show, as these journeymen reach a region, they will be met with a girl representative of that region. Here, in the North, Quynh Vi, dressed in a brown/pink ao tu than, again shows off her amazing versatility as she is able to perform these classical Northern melodies with such conviction and control. A truly spectacular and very meaningful opening to commence our journey.

2. Giấc Mơ Hồi Hương (Khánh Hà)

The map of Vietnam is now replaced by the Thap Rua structure. The screen behind the structure has images of sky and clouds. The stage is filled with smoke, as Khanh Ha in an elegant pink ao dai. There have been numerous songs written about the devastating migration of 1954, this song by Vu Thanh is among one of the best. The lyrics and sweeping melody in combination with the vocal strengths of Khanh Ha capture the sadness and yearn of the millions who had to leave. I've heard this song many times before, but have never been touched by it as much as tonight. Perhaps, because the chosen theme immediately put you in a sort of mind frame, and just envisioning the millions who had to walk away, touched a chord within me.

3. Hà Nội Ngày Trở Về (Quang Dũng)

The stage remains the same, except the screen behind Thap Rua is now removed and the fog has dissipated. Quang Dung appears in a slick black suit with a diamond broche on his left suit lapel. It's nice to see Quang Dung back on the Paris By Night stage. His voice is so deep and resonate that it makes the walls of the theater nearly vibrate. Everyone is drawn in by the subtleties of the performer and listen intently to the poetic and lyrical melody. I especially loved the chorus where the louder and fuller dynamics created a nice contrast to the verses.
Vội vã trở về vội vã ra đi
Chẳng thể nào qua hết từng con phố
Nhưng còn đó mua thu, mùa thu đầy gió
Và rêu phong bên những gốc cây già

Vội vã trở về cùng tháng năm xưa
Sau những con đường dầu dãi nắng mưa
Bên quán ngọ em buồn nghe lá trút
Chiều mưa sa giăng kín phố dài 

4. Em Đi Chùa Hương (Tú Quyên & Thanh Trúc)

The stage is set up with 3 huge coins positioned in a straight line across the stage. Tu Quyen and Thanh Truc are both in Ao Tu Than and floral decorations in their hair. Tu Quyen in orange and Thanh Truc in green. Both enter from the right on a small boat. The image of the boat entering the stage along side the 12 dancers was so beautiful. The arrangement is very traditional although it sounds younger and more fun than Ai Van's performance (from PBN 15). Thanh Truc and Tu Quyen are so cute and adorable as they act and sing and really capture the attention of the audience.

5. Hà Nội Mùa Vắng Những Cơn Mưa (Thế Sơn)

The screen is lowered and images of Ha Noi play during this performance. I was very surprised to hear that The Son was performing a Ha Noi song. He's wearing a very stylish and modern dark gray suit. The buttons comprise of several forest green horizontal stripes across the front of the suit. I think we sometimes forget what an awesome voice The Son has. He is such a diverse and versatile performer. It truly has the range and power while also maintaining the emotions of the song. I've heard this song many times performed by many singers, but never has it caught my attention like this one. His diction, phrasing, and dynamics really add a very special dimension to this song.
** Clip: Nhac Si Hoang Duong **

6. Hướng Về Hà Nội (Thu Phương)

The screen remains but a red bridge railing is rolled out. It's been about 3 years since Thu Phuong last appeared on PBN 77. Tonight she is wearing a purple ao dai with embroidered black flowers, although it looks more like a dress because it's so flared at the bottom. I know there was a lot of talk surrounding about her appearance on this PBN, personally I've never really paid that much attention to her, but I have to admit she has a very strong and controlled voice. Her movements and actions are very bold. Her very strong Ha Noi tonalties made the performance very distinct and authentic.

7. Em Ơi Hà Nội Phố (Bằng Kiều)

Of all the solos in the Ha Noi section, this was probably my favorite. He's handsomely dressed in a black suit with a diamond outline. His voice is just so special. Right from the very first note, he is able to draw you in. Through this performance, he transports the audience to Ha Noi, a place where Bang Kieu personally had some very fond memories. I think he was able to channel those memories into song to make it come alive. He has so much breath support, diction, phrasing that his singing seems almost effortless. I was truly enchanted and amazed. What a beautiful way to end this segment of the journey. He was able to leave a lasting impression of this city before we continued south on our journey.


** Clip: "Hue" **
8. Con Đường Cái Quan – Qua Miền Trung (Mai Thiên Vân, Trần Thái Hòa, Trịnh Lam, Dương Triệu Vũ, Nguyễn Hoàng Nam, Lưu Việt Hùng)

Our journey southward stops in central Vietnam, home of the Imperial City, Hue. The city landscapes of Ha Noi have instantaneously been transformed by the addition of mountains, tall bamboo trees, huge rocks (to represent the mountains of the region), and Chua Thien Mu. This segment uses 2 of the songs in Pham Duy's "Truong Ca Con Duong Cai Quan", that being "Ai Vo Xu Hue Thi Vo" & "Ai Di Tren Dam Duong Truong." Mai Thien Van with her heavenly voice (more on this later) greets the audience and the group of travelers in a light pink ao dai. This invitation into this central region is very colorful and lively. The 5 journeyman all dress in black ao dai. Together with the 12 dancers, we are invited to continue our journey through this mystical and enchanting region of central Vietnam.

9. Tâm Tình Gửi Huế (Họa Mi) & Trở Về Huế (Ý Lan)

Both of these tango songs by Hoang Thi Tho and Van Phung respectfully speak to the beauty of this region. Furthermore, it is being delivered by 2 of the greatest talents of the Vietnamese industry. Hoa Mi performs "Tam Tinh Gui Hue" in a black floral ao dai with neck embellishments. There is just something very unique and special about her voice. Her performances have always been simple, but so captivating. Y Lan then comes out in a black sequin ao dai with a white rose centered at the neck collar. Her hair is tied back in a very "Hue" style. Hoa Mi's song transitions smoothly into this classic Van Phung song and Y Lan gives a spectacular performance as always. After the performance, Nguyen Ngoc Ngan mentions the recent passing of Y Lan's father, actor Le Quynh.

10. Bao Giờ Em Quên (Mai Quốc Huy)
This is Mai Quoc Huy's 5th PBN performance. Throughout the past year, we have seen Mai Quoc Huy's progress on stage. He seems much more comfortable and confident on stage, and his singing reigns with more feelings and emotions. Tonight he's dressed in a royal blue blazer with light yellow shirt and yellow tie. This is one of Duy Khanh's most well known songs, and Mai Quoc Huy delivers a very respectable performance. Listen carefully to the lyrics and you will notice the many references to the region.


Hỏi em rằng, em ở ngoài ấy ra sao?
Má xưa còn thắm? ơ ớ . . . còn thắm hoa đào?
Mắt xưa còn xanh màu biếc?
Nụ cười có đẹp trăng sao?
Hỏi em rằng, câu hò câu hát năm xưa
Có vang rộn tiếng? ơ ớ . . . rộn tiếng vui đùa?
Hay là phòng không đêm vắng?
Ai về mai nắng chiều mưa?
Hương Giang thuyền không chỗ đậu
Ngự Viên có bướm hoa vàng
Hay là hài xưa in dấu?
Đưa người đẹp ấy sang ngang
Ở nơi này bốn mùa nắng cháy em ơi
Gió lên ngập bốn ơ ớ ngập bốn phương trời
Lối xưa về xa hun hút
Mây chiều gọi nhớ chơi vơi
Mai đây đường ra xứ Huế
Cùng em thấp sáng hoa đèn
Buồn chi chuyện tình đôi lứa
Xin đừng bao giờ em quên
Em ơi ngày mai trở lại
Cùng em thấp sáng trăng nguyền
Còn đâu chuyện buồn đôi lứa
Duyên tình bao giờ em quên.

11. Thương Về Xứ Huế (Hoàng Oanh & Hà Thanh)

This song was so special as it is performed by two voices that are so representative of this region. The stage is decorated with the huge boulders, a bamboo hut & Chua Thien Mu (as used in PBN 90), and a forest of bamboo. Hoang Oanh is in a velvet ao dai with bold purple flowers while Ha Thanh is in a lilac colored silk ao dai. The 10 dancers on stage are also all in purple and each are holding traditional instruments. Their voices blend together so well and the harmony expressed was almost ethereal. 


Mây vương khói chiều, xứ Huế đẹp yêu kiều
Ngơ ngẩn lòng du khách những chiều xưa
Hương Giang lững lờ, trăng nước vờn đôi bờ
Câu hò vang xa đưa khúc buồn mơ 

12. Tiếng Sông Hương (Mai Thiên Vân)

We are witnessing history here ladies and gentlemen. We are seeing this young lady rise to stardom. Before the performance, she will have a short discussion with Nguyen Ngoc Ngan at the podium. She has such a sweet and innocent voice. NNN asked her to perform a short "cau vong co." She then performed a short line from "Lan & Diep." The audience went crazy!! She then crossed the stage to perform this famous song by Pham Dinh Chuong. "Tieng Song Huong" is of course the middle segment in Pham Dinh Chuong masterpiece "Hoi Trung Duong." Tonight, Mai Thien Van is in a purple ao dai, holding a non la, and it looks like the pearls she's wearing is part of the actual dress. Her voice is so elegant and moving. Her singing is able to touch your soul and heart. She made such a great impression in PBN 90 and it's wonderful to see her continue to succeed. 


** Clip: Nhac Si Chau Ky **
13. Trở Về (Trần Thái Hòa)

As I understand it, this was a last minute addition to the program. As many of you have already heard, Chau Ky, the composer to more than 200 popular Vietnamese songs passed away last week. His collection includes such classics as "Sao Chua Thay Hoi Am, Giot Le Dai Trang, Tuy Ca, Dan Khong Tieng Hat, etc…" He was of course featured in Paris By Night 78 – Duong Xua. "Tro Ve" was Chau Ky's very first composition written when he was 18 years old. He recounts that while going home to Hue from Ha Noi after a music tour, he came home during flood season. Upon returning home, he discovered that his mother had been swept away by the flood waters.
Về đây nhìn mây nước bơ vơ
Về đây nhìn cây lá xác xơ
Tonight Tran Thai Hoa is very handsome in a black suit with blue trimmings. Tran Thai Hoa's voice is perfect for this song. It's so warm and inviting. Having just watched the clip of Chau Ky on screen and now being able to listen to his very first song, was truly an out of body experience and a very sentimental tribute to this great composer. May Nhac Si Chau Ky rest in peace. Chau Ky 1923 – 2008.



** Nguyen Ngoc Ngan interview Congressman Nguyen Ly Tuong **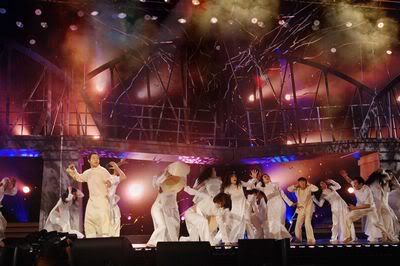 14. Nhạc Kịch "Huế Mậu Thân" 

Những Con Đường Trắng (Quang Lê)
Hát Trên Những Xác Người (Khánh Ly)


This was definitely one of the highlights of the show. Right after the curtains rose, the audience began to applause at the magnificent bridge that was erected across the stage. Cau Trang Tien has long been a symbol of Hue as it connected the region together. A huge piece of blue fabric is stretched below the stage to represent the river underneath. On stage, you will see a parade of people walking back and forth all dressed in white ao dai to represent the school girls and the innocence of the city. Quang Le is dressed in a creme colored ao dai. Tram Tu Thieng was deeply touched by this bridge, in PBN 81 we heard Quang Le perform "Chuyen Mot Chiec Cau Da Gay." He was successful with that performance and is tremendously wonderful in this song as well. His Hue accent really adds a special dimension to this song.
Ngày xưa Huế có con đường trắng
Ơi con đường trắng
Áo trắng đơn sơ,
Áo trắng ngây thơ,
Áo trắng như mơ,
Áo trắng học trò
Towards the middle of the song, we hear a crackling sound as the stage turns red, then all of a sudden the center of the bridge breaks in half. The audience breaks out in applause again. It was truly spectacular. A grand theatrical presentation, in line with Broadway performances.
Hò ơi, ơi Ðầu xanh mà ai quấn khăn tang
Mùa xuân chừ héo hắt
Hò ơi Mùa xuân m héo hắt,
dấu hờn chưa nguôi …Hò ơi ơi …


The collapse of the bridge of course goes back to the terrible attack on Tet Mau Than of 1968. 2008 by no coincidence commemorates the 40th anniversary of this terrible attack. Dead bodies now scatter across the stage. Quang Le moves around on stage with tears in his eyes as he tries to find if any are still living. Tears are now running down my eyes along with the people in the audience.
Now, Quang Le exits the stage, as Khanh Ly enters in a black ao dai. The blue fabric used as the river previously is now replaced with fabrics of white to represent mourning bands. Trinh Cong Son wrote this song after the Mau Than offensive to describe the thousands among thousands of dead people along the streets. The screen in the back is lowered and you can see a black and white footage of the death scene along the streets of Hue. Many have described it as a mass funeral site and grave as the chaos in the city unraveled after the attack. The dancers on stage, representing dead souls, gave such a moving and convincing performance. As the performance ends, you see a lost child coming out. He's lost and confused. Then from the corner of his eye he sees a crying baby. The child's mother has died. He picks up the baby and carries it to Khanh Ly. Khanh Ly, the child, and the baby walk off the stage.


** Nguyen Ngoc Ngan interview Mr. Ho Thoai **
15. Kịch (Uyên Chi, Hương Thủy, Bé Tý, Chí Tài)


** Ky Duyen interview "Top Chef" Hung Huynh **


** Clip: "Saigon" **
16. Con Đường Cái Quan – Vào Miền Nam (Hương Thủy, Thế Sơn, Quang Lê, Lưu Việt Hùng, Nguyễn Hoàng Nam)

We move into the last region. The map and the road reappear. In this section, the songs used include "Anh Di Duong Vang Duong Xa, Nho Gio Dua Ve, Di Dau Cho Thiep Theo Cung, and Den Cao Chau Doc Dio Doc Go Cong." The stage is filled with fields of grass and wheat. Huong Thuy in a sky blue ao dai greet the audience and the travelers. All the travelers now now in dress shirts and black pants. The choreography is very cute and the stage is excited with the action and colors.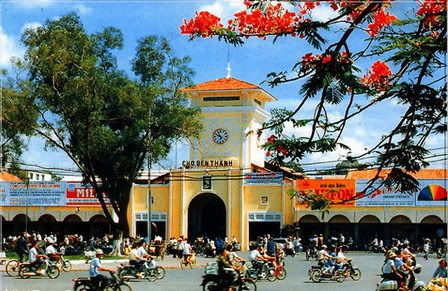 17. Vọng Cổ "Tiếng Hò Miền Nam" (Hương Lan & Minh Vương)

A wooden bridge is now stretched across the stage. Huong Lan is gorgeous in a gold ao dai, and Minh Vuong is dressed in pink suit, floral shirt, and red scarf. Although the performance lacked a certain sense of chemistry, their voices certainly made up for that. Their voices blended together well and the audience was completely moved by their talents.



18. LK Đêm Đô Thị & Sàigòn – Hồ Lệ Thu, Bảo Hân, Thùy Vân

The stage is transferred to Cho Ben Thanh. I have to mention again A City scene very symbolic of Saigon in the 1960s. All the ao dai are sequin: Ho Le Thu (purple), Bao Han (turquoise, with a very short hairdo), & Thuy Van (green). The 6 female dancers (pink) are accompanied by 8 male dancers. These 2 songs by Y Van are very well known and the dancing on stage in combination with the use of the xich lo made for a very fun, festive, and addicting performance.

19. Bước Chân Chiều Chủ Nhật (Ngọc Liên) & Đêm Lang Thang (Dương Triệu Vũ)

I loved this performance. It represents a love story in the streets of Saigon. In the background now is the famous landmark Nha Tho Duc Ba. The stage is now filled with smoke. From the left of the stage steps out Ngoc Lien in a very modern and sensual blue ao dai. I just love the timbre in her voice; it's just so unique. She definitely gave a moving and convincing performance. From the right of the stage steps out Duong Trieu Vu in jeans, white dress shirt, and leather blazer. Again he is able to showcase his diverse talents as a performer. Great, great, and very memorable performance. 

20. Sàigòn Niềm Thương Nỗi Nhớ (Trịnh Lam)

The stage remains the same, Trinh Lam appears in a black suit. Again, this song is so symbolic of the love stories of Saigon. It's so romantic. The lyrics to this song are very meaningful and Trinh Lam is able to inject all his emotions and feelings into this song. There's that something in his voice that immediately draws you in, and this is certainly no exception. As we near the one year anniversary of the Talent Show, Trinh Lam has certainly solidified his position as an accomplished singer.

21. Giòng An Giang (Quỳnh Vi & Nguyệt Anh)
The bridge used in Huong Lan/Minh Vuong's number is again brought out. We welcome Nguyet Anh to the Paris By Night stage. For her first performance, Nguyet Anh exhibits great confidence. An Giang occupies a position in the upper reaches of the Mekong Delta. The Hau Giang and Tien Giang branches of the Mekong are the dominant geographical features of the province. This terrain has led to An Giang being a significant agricultural centre, producing significant quantities of rice (wikipedia.com) Nguyet Anh and Quynh Vi along with the 8 dancers are all dressed in turquoise silk ao dai. Also the choreography incorporates long pieces of silk of the same material as the dresses, used to represent the rivers of the region. The flowing fabrics in conjunction with the voices of these 2 talented singers made for a beautiful and captivating performance.

22. Sàigòn Chiều Bơ Vơ (Minh Tuyết)

The Cho Ben Thanh set is brought out for this number. Minh Tuyet is in a very simple yet elegant light green ao dai. This is a brand new song written especially for Minh Tuyet and Paris By Night 91. The lyrics to the song in addition to the image of a lonely, heartbroken girl wandering the streets of Saigon is something so sad and poetic at the same time. As always, Minh Tuyet reaches down into her soul to deliver this performance and the audience can certainly feel her despair.


** Ky Duyen interview Bang Kieu **

23. Tự Tình Quê Hương (Tâm Đoan)

What a great performance!! This is a brand new song by Nhat Ngan. It describes the beautiful landscape and wheat fields of Southern Vietnam. The melody is fun exciting and fun, similar to "Hanh Trinh Tren Dat Phu Sa" or "Hinh Bong Que Nha." Tam Doan is very cute with her hair in braids and wearing a pink ao ba ba with black pants. The dancers are also all wearing ao ba ba and dancing with baskets of hoa sen. The simplicity of the lyrics and costumes is so symbolic of this region and how representative of the culture of Southern Vietnam.

24. Tôi Yêu (Như Loan, Thanh Trúc, Hồ Lệ Thu)


Tôi yêu quê tôi yêu lũy tre dài đẹp xinh
Yêu con sông xanh dâng cát hoe vàng bên đình
Yêu trăng buông lơi trên má cô hồng đẹp xinh
Và yêu mấy nhịp cầu tre là đây đang dựng mùa hoạ
Tôi yêu đơn sơ qua mái tranh nghèo mẹ quê
Yêu duyên nên thơ trong tiếng khoan hò ước thề
Yêu con đê xưa đưa lối qua chợ làng xưa
Và yêu mấy nhịp cầu tre là đây anh chờ em về
Kìa cùng đùa vui trẻ thơ ca hát say đời
Dù nghèo mà vui hỏi ai không hé môi cười
Mưa nắng ơn trời luống cò y thắm đẹp lúa ngời
Xóm làng đón mùa chiêm mới
Ầm no ấp ủ làng tôi
Tôi yêu quê tôi yêu mãi bây giờ còn yêu
Yêu chim bay qua mang đến tin mừng thái hòa
Yêu anh yêu em yêu nước yêu trời gần xa
Và yêu cánh đồng vời xa là đây anh chờ em về
I've posted the lyrics first because I wanted everyone to read it. This is a song by Trinh Hung who wrote other que huong classics as "Lua Mua Duyen Tham" or "Loi Ve Xom Nho." The melody is so addicting, I'm still humming the tune!! The map of Vietnam is brought down for the last time, as our journey ends here. All 3 of the dancers are dressed with the same horizontally striped material. However, the ao dai are designed to represent a specific region. Nhu Loan in red (Bac), Thanh Truc in purple (Trung), Ho Le Thu in orange (Nam). The dancing and choreography of this song was truly charming and a very befitting ending to such a meaningful and wonderful program. As we traveled "Con Duong Cai Quan" during the past 5 hours, we have visited and have seen the natural beauty of our country. We have learned its history and culture. And now we end the program, united as one.
« Welcome to Phim88.Com – The best phim online | Vân Sơn 38 In Singapore – Đêm Hội Ngộ – Xem Online »